Five Natrona County coronavirus cases tied to Casper salon × Help support our COVID-19 coverage We're providing access to COVID-19 articles for free. Please help support our work by subscribing or signing up for an account. Already a subscriber? Log in. A nurse collects nasal swabs used to take samples from patients for COVID-19 testing…
Five Natrona County coronavirus cases tied to Casper salon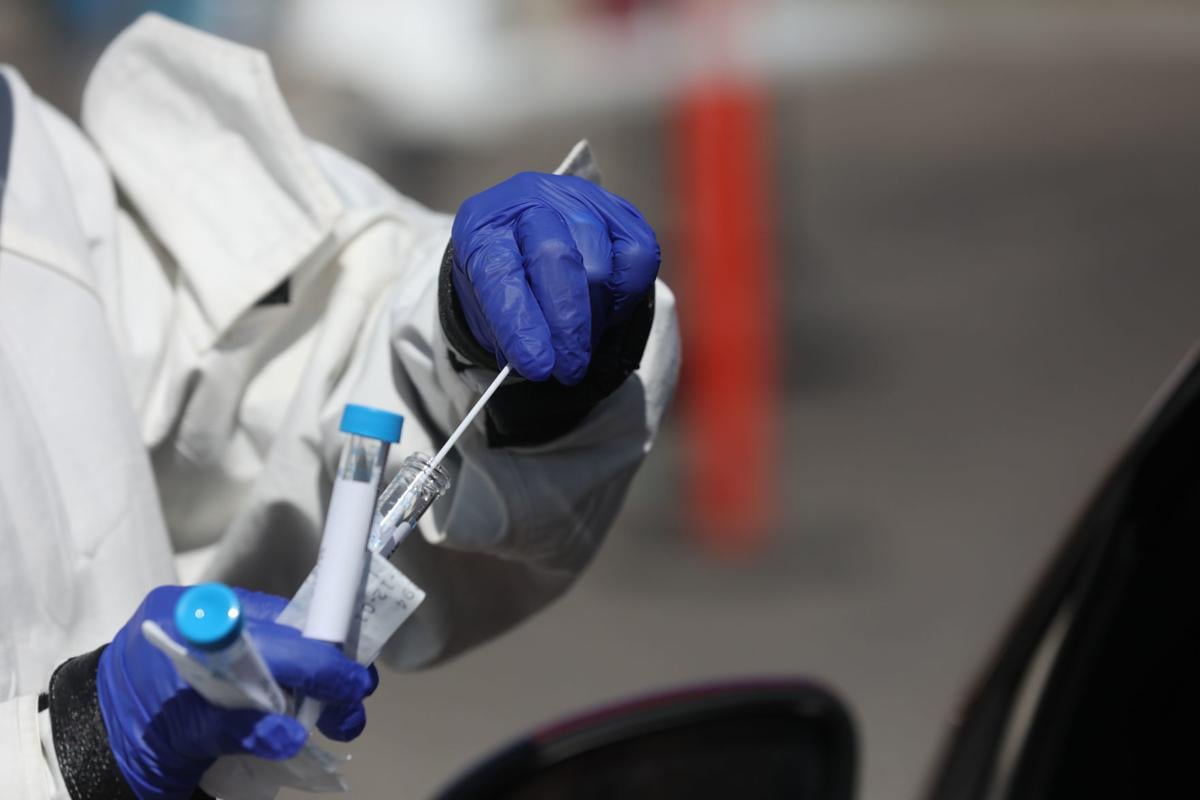 Five confirmed coronavirus cases in Natrona County have been tied to Casper hair salon The Studio, the Casper-Natrona County Health Department announced Monday evening.
Natrona County has confirmed 65 cases of the coronavirus. The two latest — a woman in her 50s and a man in his 50s — are believed to be connected to positive cases through The Studio, as are three previously identified cases.
The department said that contact tracing efforts have been thus far unsuccessful in figuring out how the virus arrived at the salon.
"CNCHD has been diligently working on contact tracing for the individuals that were provided," the department said in a news release. "However, there is possibility that we may not have been able to reach all individuals or possible exposures. At the guidance of the Wyoming Department of Health, CNCHD asked for names of individuals who were in contact with positive cases associated with the facility from May 19th to May 28th."
Personal care businesses in Wyoming, including hair salons, were allowed to reopen with restrictions on May 1.
In the release, the Health Department described its contract tracing methods:
"These types of far-reaching community exposures look different in terms of contact tracing. When a positive case is identified, CNCHD works to begin contact tracing. This contact tracing begins with an interview with the confirmed case who identifies household contacts and other contacts who they had contact with over their identified contagious period. When non-household contacts are identified, the CNCHD contact tracing team works to contact these individuals directly.
"Any of these confirmed contacts are required to quarantine 14 days from the last exposure or contact with the positive case. Due to the increase in testing, these contacts will be able to receive testing after they meet the minimum timeline for incubation. However, a negative test result for these confirmed contacts does not change the quarantine length. Since the incubation period for COVID-19 is 14 days, a negative test will not eliminate the possibility of developing the illness within that period which is why a full 14-day quarantine is still required."
Only confirmed contacts have to quarantine. Household members of the confirmed contact are not required to do so. However, if the confirmed contact develops symptoms or tests positive, the procedure starts over for their contacts.
The department encourages community members to call 307-577-9892 if they develop coronavirus-like symptoms.
To date, Wyoming has recorded 700 confirmed cases of coroanvirus, with more than 200 additional probable cases, according to the Wyoming Department of Health
Seventeen Wyoming residents have died after contracting COVID-19.
To limit the virus' spread, Gov. Mark Gordon and State Health Officer Dr. Alexia Harrist began implementing restrictions in March, including the closures of schools and many businesses and limitations on gatherings.
While in-person schooling remained closed through the spring semester, many businesses have reopened, albeit with restrictions, and groups of up to 250 people are allowed to gather outdoors as of Monday.
Follow managing editor Brandon Foster on Twitter @BFoster91
Sign up now to get the most recent coronavirus headlines and other important local and national news sent to your email inbox daily.